05 Dec

Farad: Well Woven Quilt or a Distorted Tale?

The art of fictional storytelling is absolute torture in itself, and when it culminates into a full-length novel, you cannot help but sympathise with the writer for the arduous and painful nature of the creative process. Again, it is one thing to weave a narrative around one or two persons, but it is an entirely different kettle of fish when several characters and perspectives have to be tied together, and accurately too.

Emmanuel Iduma, born in 1989, is a lawyer born and raised in Nigeria. He is a co-founder of Saraba Magazine, and a co-editor of the literary magazine Gambit: Newer African Writing. He is also the recipient of an MFA in art criticism and writing from the New York School Of Visual Arts, and the author of the book "The Sound Of Things To Come".

"Farad" is a novel set in the not-so-small university town of Ile-Ife, which spans a little over a decade, precisely from the late 1990s to the early 2010s. It dwells on the stories of seven sets of people, all surrounded by their own complexities and internal battles. There is Frank, a philosophy lecturer who has to help his ex-girlfriend's younger sister overcome psychological trauma occasioned by the death of a military dictator for whom she was a sex slave; Muna, an Anglican priest who runs to the North to escape a haunting past, but has to run again westwards following post-election unrest; Oko Egwu, an undergraduate who finds motivation in choosing a path from the life and death of his non-conformist sister Ugo; Christian, whose outlook on life is changed by the deaths of his brother and sister-in-law, and who goes on to cause a stir in the university's youth choir; Moyosore, a literature-loving academic who is bored in her marriage, wants to elope with an Europe-based lecturer, and finds it hard to put up with the weird dreams and "illogicality of her younger sister; Mosunmola, a post-graduate student who finds herself intensely attracted to a man with a terminal illness, and tries to bridge the gap between him and his estranged father; and a widowed chaplain who just can't keep up with the pace of his son's love for adventure.

The novel does well in subtly bringing a number of things in play. In "Farad", Iduma is able to highlight the socio-political atmosphere of the times, from the sunset of the military junta in the late 1990s, to the ethno-religious tensions up north in the early 2010s, to the advent of social media, Twitter and Blackberry phones in the early 2000s. He also touches the subjects of mental health, family, fraternal relations, emotional independence and flowing against accepted norms.

Two things beautifully stand out in this book: first, how the characters with their complex backgrounds somehow find their lives interconnecting albeit remotely, and second, how each individual's story is able to stand on its own. This second key quality of the novel is most glaring, because the character development is pretty top notch, and the individual perspectives are so well drawn out to the extent that the book could easily be mistaken for a collection of short stories; the separate narratives are that strong!

"Farad" provides the right blend of emotion, perspective, history and introspection. It is a novel that patiently draws you in, making you itch to know where and how these separate lives meet, teasing you, and ultimately causing you to gasp in literary orgasm when you do. It is readable, memorable and one of the more complex but beautiful reads of this decade, if I say so myself.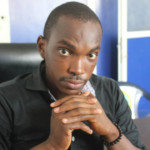 Jerry Chiemeke is a lawyer who resides in Lagos. His works have been featured on The Kalahari Review, Brittle Paper and Elsie Isy.  His editorials have also appeared on True Nollywood Stories and he is currently a book reviewer on literary blog Bagus Mutendi.